Proposed skyscraper branded 'overdevelopment'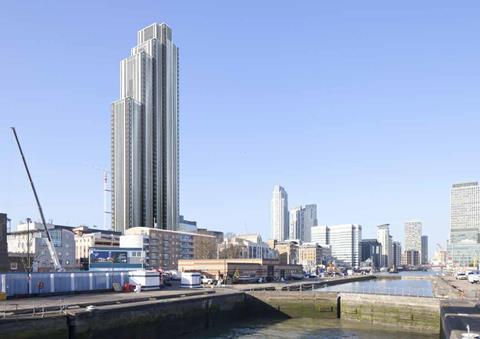 Make's 56-storey skyscraper in Canary Wharf is set to be refused planning.
The application has been recommended for refusal by Tower Hamlets on the grounds that it would be overdevelopment of the site, 225 Marsh Wall.
A report from Tower Hamlets' director of development and renewal said the proposed tower "seeks to maximise not optimise the development potential of the site".
It failed to achieve "an appropriate transition" from Canary Wharf's tower cluster and would unacceptably impact on the skyline, said the report.
The plans would also "unacceptably impact" on the amount of daylight and sunlight on surrounding properties and "unacceptably affect" the development potential of sites surrounding 225 Marsh Wall, the report added.
The proposal is for 414 residential units, 663sq m of office space tailored to suit small businesses, 448sq m of flexible office or community space and 307sq m of flexible retail and community space.
The residential units would consist of 326 for private sale, and 88 affordable units made up of 36 intermediate and 52 affordable rented with separate entrances for the private and affordable units.
But the report said the proposed mix of housing was inadequate as it failed to provide enough family-sized accommodation. The "affordable" housing, at 23.7%, is also 11% below the local plan target.
The scheme is due to be decided on by Tower Hamlets tomorrow (Thursday) evening.