Building Live: Housing clients detail their development plans and how they are tackling build cost inflation and skills shortages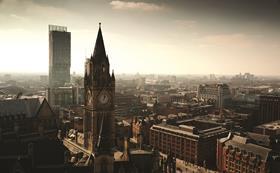 Manchester's housing deliver agency Manchester Place is targeting more than tripling its delivery of new homes to 10,000 a year, the client's chief executive Deborah McLaughlin has said.
Speaking at a Building Live panel on tackling the housing crisis, chaired by Building deputy editor Joey Gardiner, McLaughlin said her organisation was working to release more public land to increase its delivery from the current level of 3,000 units a year.
She said the city had "finally produced a land disposal plan" to speed up the release of public land, adding: "In terms of public sector land we recognise it is not coming to market quickly enough."
Manchester Place is an alliance between Manchester City Council and the Homes and Communities Agency.
McLaughlin said Manchester Place was facing capacity issues in terms of delivering tall residential blocks in the city and called for new entrants in the market, saying: "The capacity for building these very tall buildings doesn't exist.
"We have consents for 40 to 45 storey towers but only two companies in Manchester that can do that. So if you can, please give us a call."
She said she was looking further afield for contractors, including to China after attending chancellor George Osborne's trade mission to the country earlier this year: "We are talking to investors in five different countries. We can't slow down and wait for the market to catch up."
She added that Manchester's devolution deal with central government - including a £300m a year funding pot - was partly being used to help unlock development funding, "particularly for SMEs that are struggling to access finance."
She said the council was also ready to use compulsory purchase powers to buy land where developers had planning consents but were not building.
Fellow panellist Andrew Whitaker, planning director at the Homes Builders Federation, welcomed the £6.9bn of additional funding announced by Osborne in the Spending Review yesterday.
He also said the introduction of starter homes as an alternative to rented homes to meet affordable homes obligations was "a game changer".
Whitaker said volume housebuilders were committed to increasing supply to help meet the government's target of building one million new homes by 2020, and to deliver more "intermediate" housing.
He said: "It's atrocious that people earning a proper wage can't afford a home. The intermediate market has been forgotten - the government has been trying to help with that."
Phil Wade, operations director at First Base, which is behind the major Silvertown regeneration scheme in east London, told delegates the client was facing challenges in the London market in terms of "rampant" build cost inflation and skills shortages.
Wade warned: "There is uncertainty in terms of pricing. We are checking out viability the whole time. Sometimes at the eleventh hour you find the price you were going for is no longer on the table."
Victoria Hills, chief executive of the Old Oak and Park Royal Development Corporation, which is in charge of the regeneration of the area around the planned HS2 and Crossrail station Old Oak Common, said £26bn of gross development value would be delivered there, including 25,500 homes.
She said the UK could learn from the level of ambition around major oversite developments on top of stations elsewhere in the world, including the West Kowloon development in Hong Kong.