Plans include raft of new development sites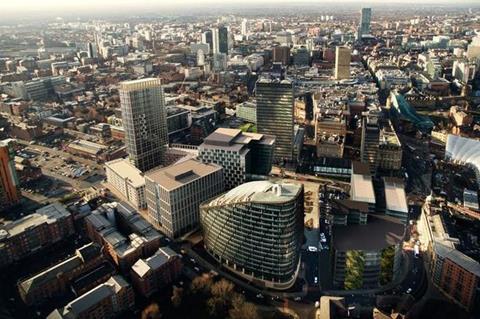 Manchester council has unveiled plans for the city centre which could include a raft of new towers, multi-billion pound new neighbourhoods and 'vertical villages'.
A new city centre strategy has been put out to public consultation which includes a vision for the city centre until 2018, as well as a vision for Manchester as a whole up to 2025 that pledges to move to a low carbon economy.
The vision builds on the success of the 2009/12 strategy and aims to make Manchester a "place to invest, to work, to live, to shop, to enjoy, that brings people together and a place that is easy to travel to for leisure or employment".
The strategy focuses on a number of new neighbourhoods including NOMA, St Johns (the former ITV site), Spinningfields, First Street, Aytoun Campus and the central business district.
The new vertical village at St John's, which was reported on in Building earlier this month, and the £1.4bn redevelopment of Granada Studios, will be joined by the redevelopment of the dormant First Street site, which is close to the city's new HOME theatre. The masterplan will see the development expand south and west and include new residential development
The draft strategy states: "Our vision is for Manchester in 2025 to be in the top flight of world class cities with a competitive, dynamic and sustainable economy that draws on our distinctive strengths in science, advanced manufacturing, culture, creative and digital business, cultivating and encouraging new ideas.
"With a highly skilled, enterprising and industrious people that is connected, internationally and within the UK".
Sir Richard Leese, leader of Manchester City Council, said: "The city centre is the beating heart of Manchester's economy, and so it requires a considered strategy that provides the framework to support our objectives. To do this we must be ambitious and position ourselves as a global city to attract major national and international investment - securing long-term growth and employment.
"Of course, the other side of this strategy is ensuring that the thousands of people who live in the city centre are provided for with attractive neighbourhoods and good quality, sustainable housing and open public spaces - with the infrastructure in place to make travel into and across the city centre as easy as possible."
The city masterplan can be found on the council website.