Scheme worth £1.4bn is being developed by Westfield and Hammerson team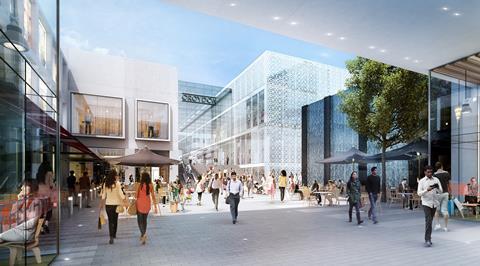 Sadiq Khan, Mayor of London, has approved the £1.4bn plan to completely transform Croydon's town centre.
The redevelopment of the Whitgift shopping centre by the Croydon Partnership – a joint venture between Westfield and Croydon Council – will create 7000 jobs, deliver close to 1,000 new homes and provide new leisure facilities and public spaces.
The project, which has been designed by architect Allies and Morrison, will provide more than 500,000m2 of shops and restaurants.
The 1,000 homes, which will be available to rent, also include properties that will be available through the London Living Rent scheme.
Khan gave the project the green light following its approval by Croydon Council's planning committee last November. It will be the third Westfield shopping centre in the capital, alongside the company's sites in Shepherd's Bush and Stratford.
Khan said: "This development will play a key role in unlocking the borough's potential and is set to deliver huge economic benefits to residents and businesses in the borough. As well as the creation of 7,000 jobs and the delivery of almost 1,000 new homes, it will also attract many visitors to its brand-new leisure facilities and public spaces. I'm confident the benefits of this scheme will be felt for generations to come."
Main construction work is expected to start next year with demolition worrk beginning later this year.