Boris Johnson wants 13 new crossings built by 2050
London mayor Boris Johnson has unveiled plans to build 13 bridges and tunnels – the majority east of the planned Garden Bridge at South Bank – which he says he wants built over the next 35 years.
The controversial Garden Bridge is included among the 13 river crossings which Johnson says are needed if the capital is to cope with a population growth that is expected to hit 10 million by 2030.
Nine of the crossings will be in the east stretching from a proposed cycle and footbridge from Rotherhithe to Canary Wharf – which was last week unveiled by Reform Architects – to the Lower Thames Crossing near the existing Dartford Crossing.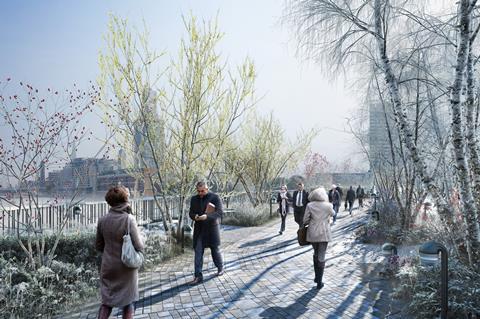 Existing connections in east London are poor, with just three road crossings in the 14 miles between Tower Bridge and the M25.
Johnson said: "Building a series of new bridges and tunnels across the Thames is essential for the future prosperity of our rapidly-growing city. By creating more links between the north and south of the river, we won't just improve day-to-day travelling across the capital, we'll unlock areas for development and create thousands of jobs and homes."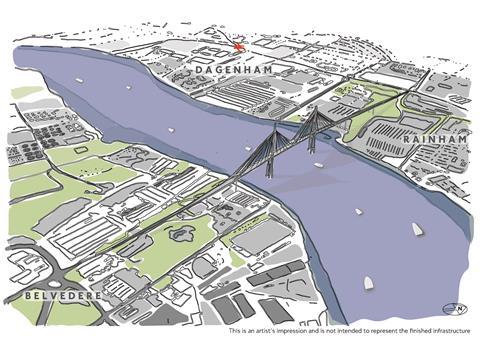 A consultation has begun on new bridges at Gallions Reach and Belvedere in the east with hopes that the pair could be built by 2025. A public consultation on Silvertown Tunnel, intended to take pressure off the Blackwall Tunnel, has recently concluded.
The furthest west bridge planned is the £22 million Diamond Jubilee Bridge (pictured below) which would run alongside a rail viaduct between Battersea and Fulham and was designed speculatively by local practice One World Design.
It has been given planning and house builder Barrett London, which is constructing a Patel Taylor tower near the southern landing site, is constructing piles for a future footbridge as part of its planning agreement.
All the bridge needs is funding and Chris Medland, director of Battersea-based One World Design, said he hoped the mayor's announcement would now get this started.
"It's really exciting news," he said. "This bridge will make a massive difference to everyone who lives and works in the area who currently has to make a three-mile round-trip to cross 250m of water.
"Both sides of the river have been developed substantially in the last few years, making a bridge here even more important."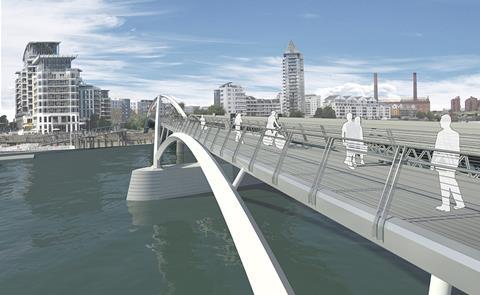 Another bridge included in the plans is a pedestrian and cycle bridge between Pimlico and Nine Elms in Battersea which last week saw Bystrup and Robin Snell picked as preferred bidder.
It still needs planning from both Wansworth and Westminster councils – as well as approval by the mayor – but it has attracted criticism from the Pimlico side of the river who fear the bridge will bring 18,000 extra commuters a day into their residential area and damage one the few public spaces – a park where the bridge may land.
Last week Terry Farrell said that London's future depended on just seven bridges running from the Westferry Bridge at Canary Wharf to Bugsby's Bridge near the Thames Barrier.
Source
This story first appeared on Building Design