Contractor bags student accommodation schemes in Belfast and Portsmouth and job on £45m Stansted hotel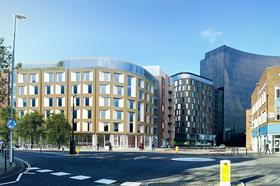 McAleer & Rushe has won a hat-trick of major schemes worth a combined £148m, including a £70m deal with Queen's University in Belfast to deliver 1,200 student bedrooms across two sites.
Under the Queen's deal the contractor will build a 775-bed scheme on the city's College Avenue and a further 476-bed scheme on McClintock Street.
Meanwhile, the firm has secured a £52m design-and-build student housing job in Portsmouth.
The Portsmouth scheme will see McAleer & Rushe convert and extend the city's Zurich House office building into a 1,000-bed student halls for local developer Threesixty Developments. Construction of the scheme is set to complete in summer 2017.
The contractor has also won a £26m design-and-build job with Urban & Civic to build a £45m hotel at Stansted airport.
Urban & Civic secured planning permission for the hotel after acquiring the two-acre site from Stansted Airport owners MAG Property, the property and development division of Manchester Airports Group.
The 357-bed, eight-storey Hampton by Hilton will be located on Bassingbourn Road and will have direct access to Stansted airport.
It is set to open summer 2017 and will form part of MAG's £260m investment to attract more passengers and airlines to the airport.
McAleer & Rushe has previously built Hampton by Hilton hotels at Gatwick Airport, Waterloo in London and Bournemouth.