Move comes following strategic review by new chief Paul Hamer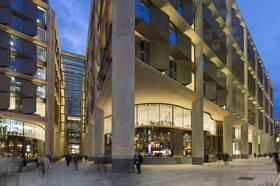 New Sir Robert McAlpine chief executive Paul Hamer has told staff it plans to complete a redundancy programme that will see nearly 100 jobs go by Christmas.
Hamer, who only joined the contractor at the end of July, delivered his bombshell last week after spending his first few months in charge carrying out a strategic review.
Shocked staff were told this will see close to 100 jobs go – around 5% of the £870m turnover contractor's total headcount – and a rejig at its head office in Hemel Hempstead as well as its regional businesses streamlined.
Most of the losses are expected to be among back office roles while the firm said the changes will not affect staff on current site and project operations.
Restructuring will see the existing six regional centres cut to four, as Wales and the West merge with the North West, and Scotland combines with the North East.
The new operational structure will be: Scotland-Northern; Central-Wales-West; Southern, and London.
A spokesperson for the Bloomberg building (pictured) contractor said all the changes will be wrapped up this year.
In its most recent results, McAlpine's parent company Newarthill racked up its third straight annual loss after £53m of pension liabilities blew a hole in its accounts, sending the firm to a £43m pre-tax loss.