Practice to redesign historic square and surrounding streets as part of wider city-centre overhaul
John McAslan & Partners has been awarded the prestigious job to transform Glasgow's George Square eight years after its appointment on the scheme was originally cancelled.
The practice has been re-commissioned by the city council to design a new vision for the historic square and around 2.5km of surrounding streets.
Construction of the scheme is expected to start in 2023, a decade after McAslan first triumphed in a £15m contest to overhaul the square.
In January 2013, minutes after McAslan was announced the winner, then-council leader Gordon Matheson broke the news that he was scrapping the scheme.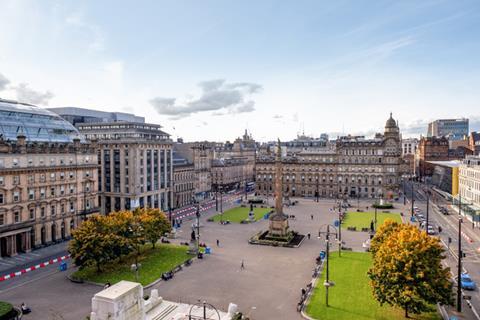 He said he made the decision under pressure from Glasgow residents, who he said had "made it clear in no uncertain terms" that they did not want a "radical redesign" of the square, the city's civic centre.
McAslan founder John McAslan suggested Matheson had been playing political games in cancelling the scheme, and appeared on Newsnight in an attempt to rally public support.
First laid out in 1781, the square is home to some of Scotland's highest profile public monuments, including the cenotaph and statues of famous Scottish public figures.
It is also home to some of the city's best known buildings, including the 1889 Beaux-Arts style City Chambers, headquarters of the council since 1996, the 1874 Merchant's House, and a column bearing a statue of Romantic-era Scottish poet Sir Walter Scott.
The scheme has been re-awarded as part of the city's £115m Avenues project to create a network of attractive, accessible, safe, sustainable and easily-maintained routes throughout the city centre.
That scheme is itself part of the Glasgow City Region Deal, which will see the UK and Scottish governments each invest £500m to fund new infrastructure projects in the city.
Glasgow City Council leader Susan Aitken said the redesign of George Square and its surrounding streets was a "crucial" project that will be a "symbol of our vision for the city centre - a place that will be far more attractive to Glaswegians and our visitors".
Andy Harris, Leader of John McAslan + Partners' Landscape Team said he was "thrilled" to be appointed on the scheme.
The Department of Architecture at the University of Strathclyde and the Mackintosh School of Architecture at The Glasgow School of Art are teaming up with John McAslan + Partners through a range of educational initiatives to include students and staff in the design process.