McLaren wins two major commercial projects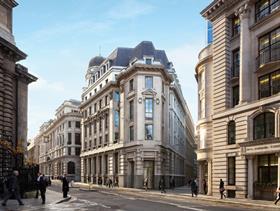 McLaren Construction has won two major commercial projects worth £55m in central London.
The first is a £37.5m new-build eight-storey commercial building at 25-32 Chancery Lane, with ground-floor retail units. McLaren will retain the exisiting Chancery Lane facade.
The second project is £28m scheme to redevelop 1 King William Street (pictured), a former office of Rothschilds investment bank.
The 1997 extension, behind a 1920's Grade II listed building, will be 50% demolished from roof level to ground floor, leaving just a core structure, and will then be replaced by a new primary structure.
Both schemes will accommodate a combined total of over 198,694 sq ft of office space for new occupiers.
Work starts on both 25-32 Chancery Lane and 1 King William Street in August 2014 and are both due to be completed 2016.
Phil Pringle, managing director, McLaren Construction, said: "These projects see us furthering our commercial project pipeline within key locations in London and we are very pleased to be working with Viridis Real Estate Services Limited and Kajima Partnership Limited."