Rory Stewart tells MPs bust firm was offering to lose £15m a year on deal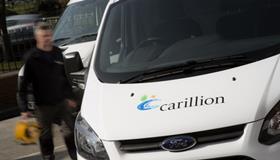 The prisons minister has said Carillion proposed a deal with the Ministry of Justice to look after dozens of prisons – and knowingly lose £75m over its duration.
The extraordinary claim was made by Rory Stewart who told MPs on the justice committee yesterday that the £200m contract the bust firm signed four years ago to look after 50 prisons was too good to be true.
Stewart said: "What effectively happened there, I believe, is we had a contractor come in to us – and this is something that is vulnerability with all private sector contractors – who effectively offered, at their own risk, to do our maintenance for considerably less money than it would cost us to do. In effect, £15m a year less."
"We signed up to that and in retrospect, more weight should have been given to saying, 'Wait a second, what on earth is Carillion proposing here? They are basically proposing to do this and lose £15m a year'.
"Is that really sustainable or are we going to end up back in a situation where we are paying for it?"
The contract, which began in June 2015 and was due to have run for five years, has now been taken over by the government but Stewart admitted the Ministry of Justice had to take its share of the blame for the "unsustainable" deal ever being signed in the first place.
He added: "We did not get the deal that Carillion was proposing to give us because it turned out that what Carillion was proposing to us was completely unsustainable in terms of their finances.
"This is a real, real lesson which is why we need to be absolutely clear about what people's costs are and we need to be more honest internally that something that looks like too good a deal may be too good a deal, and that realistically in terms of human nature if people are losing money on a contract then they are going to start disinvesting."
The revelation has drawn further criticism of current transport secretary Chris Grayling, who was in charge of the Ministry of Justice when the contract was awarded.
Grayling has already taken significant criticism in relation to Carillion, having been forced to deny that the contractor's appointment to a £1.4bn HS2 contract days after a £845m writedown last July was the wrong call.
He has also been asked to explain why Big Four accountant EY, who was advising Carillion on how to restructure following the profit warning, was appointed to determine the firm's financial ability to deliver the rail project at the same time