The FCA is also looking at the timing of the firm's profit warnings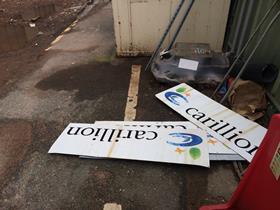 The Financial Conduct Authority has confirmed it is looking into claims of insider dealing at Carillion.
The financial watchdog has written to MPs running the inquiry into the circumstances behind the collapse of the contractor in January this year.
In its letter it said: "Our investigation is into the timeliness and content of the firm's announcements. Our primary focus Is to determine whether the matters announced in Carillon's trading update on 10 July 2017 were identified and announced at the appropriate time.
"We are also considering whether earlier announcements made by Carillon were false or misleading as a result. This includes Carillon's £845m contract provision as well as Carillion's revised expectations as to revenue, profit and debt levels that were also announced on 10 July.
"Our investigation currently covers potential breaches of the Market Abuse Regulation, Listing Rules and Listing Principles. We are aware of allegations of insider trading in Carillion's shares prior to its trading update on 10 July 2017 and are looking into them."
The City watchdog launched a probe covering the period between 7 December 2016 and 10 July last year – the date of the writedown – on two weeks before the firm went bust on 15 January.
The FCA's statement came as a response to a letter from the inquiry's co-chair Frank Field who wrote to the Cabinet Office, former Carillion chairman Philip Green and the authority about information published in the National Audit Office's report on Carillion, published earlier this month.
The report revealed that among Carillion's requests for support from the government in the weeks before it was forced to apply for bankruptcy it had asked for "protection from the imposition of fines or penalties by regulators for actions taken by the company before July 2017".
The 31 December 2017 request, which was withdrawn a week later, would have meant the company had immunity for any breaches of The Pensions Regulator, the Financial Reporting Council or FCA regulations.
Field asked the Cabinet Office, Green and the FCA about the request, plus whether such requests were normal and how they were handled.
Green's response claimed the lenders Carillion was trying to secure some last ditch financing from had insisted the contractor put the request to government as a condition of any potential further lending.
The FCA's said the request was never passed on to it, but that it would only rarely and in exceptional circumstances alter the sanction it applied as a result of an investigation.