Sculpture will tower over Midlands motorways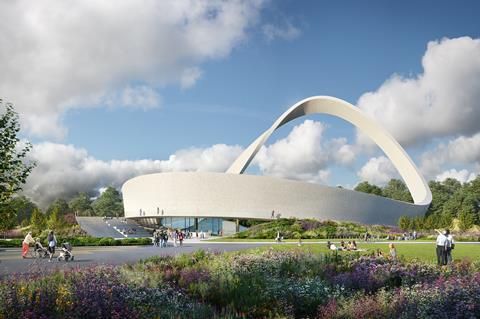 Snug Architects has won planning for its giant monument to answered prayer that will stand between two motorways in the West Midlands.
The 51.5m tall Eternal Wall of Answered Prayer will be built from a million bricks, each one linked via an app to an individual testimony.
Southampton-based Snug's Möbius strip design was the winning entry in an international RIBA competition last year that attracted 133 entries from 28 countries.
It was granted planning by North Warwickshire Borough Council and then given the final nod by communities secretary Robert Jenrick.
Construction is now expected to begin in spring 2021 and to be completed in the autumn of 2022.
Richard Gamble, an entrepreneur and former chaplain to Leicester City FC, first had the idea in 2004 for what he said would be "one of the biggest crowd-created collaborative projects in the world".
A call for the public to submit stories of their answered prayers has gone out and eventually visitors holding their phone against any of the million bricks will be able to read each account.
The monument will stand between the M6 and M42 near Birmingham and will be passed by motorists more than 500,000 times each week. Gamble predicted it would attract 300,000 visitors a year. Facilities will include a café, book shop, visitor centre and 24-hour chaplaincy service.