Leadsom argues all new homes will be "virtually" zero carbon by 2021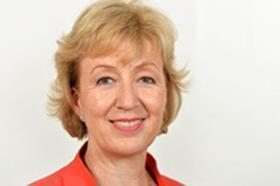 Energy minister Andrea Leadsom has defended the government's decision to scrap its zero-carbon homes target for 2020, arguing all new homes will be "virtually" zero carbon by 2021 under remaining energy efficiency policies.
Leadsom spoke to Building this week at the launch of the UK's first and only "eco town" in Bicester, Oxfordshire - conceived under the last Labour government's eco towns policy, which has also since been dropped.
The zero-carbon homes target was finally axed in the Housing and Planning bill, which became law earlier this month, despite a last-ditch attempt by peers in the House of Lords to overturn it.
Leadsom said the government was right to axe the target due to the added financial burden it placed on housebuilders and added new energy efficiency incentives would be announced in the coming months.
She said the "complexity" of the regulation was "ruling out" smaller housebuilders and added: "We've got virtually zero-carbon home targets anyway. It doesn't make sense at a time when we desperately need to be building more houses to put more regulation in the way of getting those houses built."
The targets Leadsom was referring to were the EU's Energy Performance of Buildings Directive, which states that all new buildings must be "nearly zero energy" by 31 December 2020.
Leadsom, who is a member on the committee for Vote Leave, the campaign in favour of Britain leaving the EU, insisted the government was doing "everything we can" to improve energy efficiency in homes and said all of its "subsidies and policies" will be focused around the energy company obligation and fuel poverty.
She said: "We've had confirmation … of the budget for energy efficiency and fuel poverty alleviation, so we have a lot of plans we are working on."