The OJEU notice for a private sector partner to manage £20bn worth of defence estate published today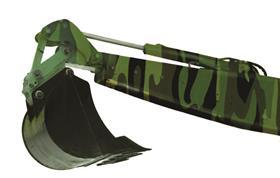 The Ministry of Defence has launched its procurement for a private sector partner to manage £20bn worth of defence estate
In a statement to parliament, Phillip Hammond said the Defence Infrastructure Organisation (DIO) would begin the process to procure a strategic business partner (SBP), which would manage the defence estate, worth nearly £20bn and including around 4,000 sites.
The OJEU notice for the strategic business partner was published today.
The Ministry of Defence said it wanted to create "a sustainable, efficient and professional organisation at the best cost to the taxpayer".
"The procurement exercise launched today aims to do that and could help transform DIO into a world-class public sector infrastructure delivery organisation," the MoD said.
It said that through the procurement process the DIO would test whether the strategic business partner could:
Manage the DIO's operations and staff, initially as part of DIO's existing organisation. It said it was envisaged that this will include "reviewing the organisational structure presently being put in place by DIO to advise on what further efficiencies can be driven from the business, what additional skills are required to deliver DIO's strategic objectives and the options for providing those skills".
Develop and implement a strategic asset management plan to "increase the utilisation of the estate, which will lead to rationalisation and commercialisation opportunities".
Further develop and implement the transformation of the DIO
Manage existing and new suppliers and other third party arrangements
Develop contracting strategies to drive further efficiencies and deliver better value for money for the MOD across its estate
The move comes after the DIO launched a 'soft-market test' earlier this year on its plans to procure a private sector partner.
As Building reported in March the DIO was "besieged" with expressions of interest with "big names" such as Serco, Capita, Babcock, and CH2M Hill all expressing an interest. Other firms said to be interested include Telereal, Trillium, Sodexo, Interserve, Carillion, Land Securities, and GVA Grimley.
The DIO is managing the £5bn New Generation Estates Contract (NGEC) programme, which includes a £1.5bn contract to provide repairs and maintenance to the more than 49,000 UK military homes.
However, in January the DIO said no NGEC contracts would be awarded this year, as it looked to appoint the private sector partner.
Andrew Manley, chief executive of the DIO, said: "Since DIO was formed last year we have been at the forefront of the wider reform going on across this department. During that time we have achieved a significant amount and I believe a strategic business partner could take DIO another step closer to becoming a world-class public sector infrastructure delivery organisation.
"Over the coming months we will be considering whether a strategic business partner can help us continue, and build upon, the transformation programme that we have already made significant progress on, and will enable us to deliver … savings."