Outsourcing giant moves to replace finance boss with former Balfour director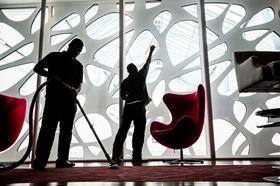 Outsourcing giant Mitie has posted another profit warning, as the firm announced it is replacing its finance director with former Balfour Beatty group director of finance Sandip Mahajan.
In a trading update after a two-day board meeting, Mitie said it is taking a "more conservative judgement on contractual positions" that will result in a further £14m of one-off charges this year.
Mitie said its property management and technical facilities management divisions had been hit by "client deferrals and investment plan delays".
As a result underlying operating profit for the year to March 2017 will come in lower than previously expected, at between £60m to £70m, Mitie said.
Mitie added: "Despite these lower forecast earnings, we expect to continue operating within our contractual banking covenants."
The update comes after the firm posted two profit warnings in two months last year, contributing to previous chief executive Ruby McGregor-Smith stepping down.
She has been replaced by Phil Bentley as chief executive, who previously had leadership roles at Cable & Wireless and British Gas.
Today Mitie also announced its group finance director Suzanne Baxter is stepping down next month, to be replaced by Sandip Mahajan taking on the role of chief financial officer.