Main backer Toshiba considers involvement in £10bn scheme, which would bring 21,000 jobs to Cumbria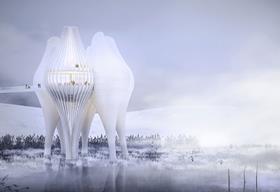 The future of the planned £10bn Moorside nuclear power plant in Cumbria is in doubt after its main backer said it is considering pulling out.
Satoshi Tsunakawa, the president and CEO of Japanese conglomerate Toshiba – which owns a 60% stake in Moorside developer NuGen – told reporters at a press conference last week that the firm was reviewing its overseas nuclear business.
Toshiba owns Westinghouse, the American-based nuclear developer whose AP1000 nuclear reactors are set to be used at Moorside.
It has been estimated the 3.8GW plant in Cumbria would bring 21,000 jobs to the region.
Tsunakawa said Toshiba would concentrate on designing, manufacturing and supplying nuclear reactors, and added that Westinghouse is "unlikely to carry out actual construction work for the future nuclear power plant projects to eliminate risk."
The news comes after Westinghouse's purchase of American nuclear construction firm CB&I Stone & Webster in 2015.
Toshiba said it could be hit by a writedown of billions of dollars following the transaction, and admitted it wouldn't be able to pinpoint the exact impact until February.
CB&I Stone & Webster has been hit by significant project delays and cost increases on four nuclear power plants it is building in the US.
The doubt over Moorside comes after renowned nuclear expert Mycle Schneider, who has advised the European Parliament as well as UK, Belgian, French and German governments, told Building in August last year that delays to one power plant in the UK's nuclear pipeline would have a knock-on effect on the rest of the pipeline, as it would diminish the attractiveness to investors.
Speaking after the UK government announced a shock review into the highly delayed Hinkley Point C, he said: "Don't look at these [UK nuclear] projects in an isolated way. With every delay, the probability for them to see the light shrinks."
Commenting on the future of Moorside, a Toshiba spokesperson said: "At this moment, we can only say that we are reviewing the future of our nuclear power business outside Japan, but nothing has been decided at this time, including the impact on our Moorside nuclear project."