Nine firms tasked with beginning over 100,000 homes by March 2022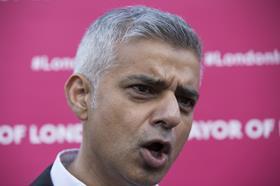 Two more specialists have been added to the mayor of London's list of firms tasked with building thousands of affordable homes in the capital.
Catalyst and A2Dominion will build close to an extra 5,000 affordable homes on the back of the 116,000 London mayor Sadiq Khan wants to get underway by March 2022. The pair will build the extra 5,000 homes along with L&Q and Optivo.
Khan (pictured) has earmarked £288m for the 5,000 homes with Catalyst and A2Dominion building more than 3,800 of them. Work on these is also due to start by March 2022.
The appointments bring the number of strategic partners for the mayor's homes building programme to nine – with Clarion, Hyde, L&Q, Network, Notting Hill Genesis, Optivo and Peabody already on the list.
The extra homes will be a boost to the mayor's ambition of building more affordable homes in the capital but James Murray, the deputy mayor for housing and residential development, said government needed to do more to get more affordable homes in London up and running.
"[The mayor] can only go so far without the government stepping up – it is crucial that ministers give councils and City Hall the resources and powers we need for a step change in the number of affordable homes we can build."
Earlier this week, Khan gave a development in west London the green light previously knocked back by the council because of heritage concerns.
Hounslow council said L&Q's development at a former car dealership in Brentford would negatively impact local heritage sites including Kew Gardens.
But Khan said the need for the proposed 441 homes, 50% of which will be affordable, outweighed the authority's worries.