Developers and housebuilders will be eligible for loans ranging between £5m and £100m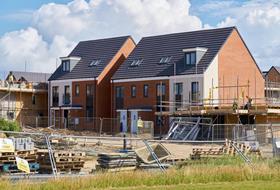 The government has teamed up with Barclays to provide £1bn of development finance to help build thousands of new homes across England.
Loans ranging from £5m to £100m will be available for developers and housebuilders who are able to demonstrate the necessary experience and track record to undertake and complete their proposed project.
Housing secretary James Brokenshire said: "This is a fantastic opportunity to not only get more homes built but also promote new and innovative approaches to construction and design that exist across the housing market."
Funding is open to new clients as well as existing Barclays clients and is intended to diversify the housing market, as at present almost two-thirds of homes are built by just 10 companies.
A key priority of the Housing Delivery Fund is to support small and medium sized businesses to develop homes for rent or sale including social housing, retirement living and the private rented sector, whilst also supporting innovation in the model of delivery such as brownfield land and urban regeneration projects.
The announcement comes as almost half of small housebuilders said that access to finance is a major barrier to their ability to build more homes in a survey published by the Federation of Master Builders this morning.
John McFarlane, Barclays' chairman, said: "This £1bn fund is about showing firms in the business of house building that the right finance is available for projects that help meet this urgent need."
The agreement with Barclays forms part of the government's wider commitment to increase the pace of housing delivery in England, with a goal of building 300,000 new homes a year by the mid-2020s.