Firm says full year results will now be ahead of analysts' previous expectations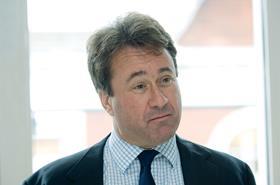 Morgan Sindall buoyed investors this morning as the firm said a booming London commercial office fit-out market and improved performance at its largest business, construction and infrastructure, would see it beat previous expectations for the year.
The firm had been expected to post profits of £68.3m in 2018 but chief executive John Morgan said: "The second half outlook for fit out is very positive and as a result of this, the group is on track to deliver a result for the year which is slightly ahead of its previous expectations."
Its fit-out business saw revenue jump 26% to £426m in the six months to June with operating profit up 29% to £18.8m. Operating margins climbed to 4.4% from 4.3%.
The firm said 80% of its income from fit-out during the first half was from London – up from 67% last time – which included a number of large projects such as finance firm Deloitte's UK headquarters at New Street Square.
It said 86% of its revenue in fit-out was from commercial office work and other jobs include working on the Shell Centre on London's Southbank.
Morgan (pictured) said the performance of fit-out had forced the firm to revise upwards its medium term target of profits at the division from between £25m and £30 to between £30m and £35m.
Its largest business saw operating margins jump from 1.1% to 1.7% as the firm said focussing on less risky construction contracts was beginning to pay off.
The construction and infrastructure business saw revenue slip 6% to £662m but operating profit was up 49% to £11.3m.
Both the construction and infrastructure divisions turned in operating margins of 1.7% with the firm saying that its construction business, which accounts for just over half of the division's revenue and won a number of high-profile education schemes in the first half including a £45m scheme for Manchester Met university, now targeting operating margins of 2.5%, having previously been set at 2%.
Its urban regeneration and property services businesses both improved performance but its partnership housing business turned in lower margins.
The business, which includes its Lovell brand, said operating profit was down 16% to £4.6m with margins slipping to 2% from 2.8% on revenue up 16% to £231m.
It said profit had been hit by problems on an unnamed design and build contract in London which it said was due to be wrapped up by the end of next month. The business has brought in a new management team, including managing director Steve Coleby, who joined in April after spending 25 years at Laing O'Rourke, which the firm said will "drive the strategic and financial development of the division as well as improving the operational performance of the contracting activities".
Overall, revenue at Morgan Sindall was up 9% to £1.4bn with pre-tax profit up 29% to £29.9m. Operating profit was up 30% to £31.6m.