Joint committee asks for views on proposal that three statutory bodies oversee governance of project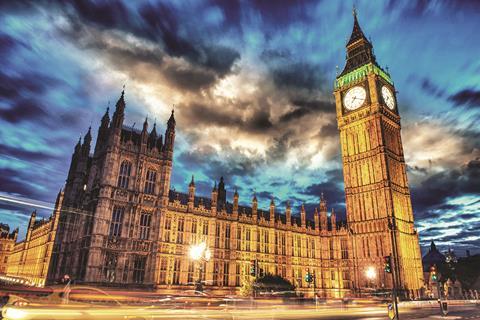 MPs and peers examining the proposed bill that will legislate for the multi-billion pound restoration of the Palace of Westminster have launched their call for evidence to find whether the government structures in place are fit for purpose.
The joint committee on the Restoration and Renewal Bill includes former home secretary David Blunkett and Building correspondent and Lib Dem peer Andrew Stunell and is chaired by Tory MP Caroline Spelman.
It is inviting views on whether the governance structures for the restoration and renewal (R&R) programme set out in the draft bill are "appropriate". The multi-billion pound scheme will see MPs and peers decant to temporary offices nearby, while the work itself is unlikely to start until the middle of the next decade.
The draft Bill proposes establishing three independent statutory bodies that would provide the governance throughout the rebuilding programme, namely a sponsor body to oversee the programme, a delivery authority to undertake the works and an estimates commission to review budgets and expenditure.
Spelman said the R&R programme would be one of the most significant conservation projects in UK history. "The Palace of Westminster is a truly iconic building and among the most recognised across the globe, for many it is a symbol of both the UK and democracy internationally.
"But beyond this, the project has to ensure that the renewed building makes provision for future technological developments, accessibility to all, and a secure and safe environment for visitors and all who work here, so that Parliament may continue to adapt to requirements in the 21st century.
"For any project on this scale it is vital the right governance systems are in place to ensure the programme is run efficiently, effectively and delivers value for money."
Interested parties can submit evidence by 18 January 2019.