Experts say many buildings where ACM cladding has been removed are still not meeting fire safety standards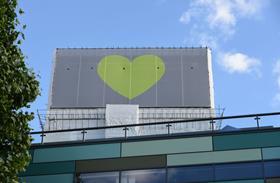 Residents of around 30 buildings which have had combustible cladding removed have been left in an equally dangerous position, MPs have heard.
Speaking as part of the Housing, Communities and Local Government committee's first follow-up session on Dame Judith Hackitt's Independent Review of Building Regulations last week British Board of Agrement chief executive Claire Curtis-Thomas said she was aware of buildings that remained unsafe despite having combustible cladding removed.
She said she knew of up to 32 buildings that did not now comply with fire safety regulations after the removal of aluminium composite material (ACM) panels.
Curtis-Thomas told the committee the buildings "still represented a serious fire risk" following refurbishments carried out after guidance was issued in response to the Grenfell Tower fire.
She said: "I would say that you can have non-combustible materials but, if you have poor installation of that product, you can still have the situation that you have seen in Grenfell.
"We have looked at 32 and we have analysed those buildings. They have had ACM panelling removed and two of them have had that panelling replaced. However, the substrate that is supporting that panelling does not comply with the fire regulations. Not one of them. We have two buildings where we think they have serious structural issues as well.
"The people who are carrying out the remediation work are either completely ignoring what they are seeing below the cladding that they are removing or they do not understand what they are looking at."
Chair of the Independent Expert Advisory Panel Sir Ken Knight, who also gave evidence, said that if this was the case it would cause him "real concern", given the advice of the expert panel to building owners.
He said: "The expert panel has issued clear advice, via DCLG, to both building owners and to building authorities that it is not just replacing cladding, it is about the system behind it, the intumescent strips, the separation, the gaps. We have never said just to replace the cladding. We have said the building system needs to be looked at."
Clive Betts, chair of the housing committee, said: "We were extremely shocked to hear today the suggestion that steps being taken to remove dangerous combustible cladding from buildings, far from making tower blocks safer, could be putting residents' lives at further risk.
"We do not have full details of these building but will be writing urgently to the government and the Expert Panel to urge them to identify them and take immediate action to address the problem."
The committee is set to have its next follow-up session later today, with housing minister Dominic Raab, Mark Norris, principal policy adviser at the Local Government Association, John Stewart, policy manager at the Residential Landlords Association and Huw Evans, director general at the Association of British Insurers.