Regeneration division of Morgan Sindall will submit plans for mixed-use scheme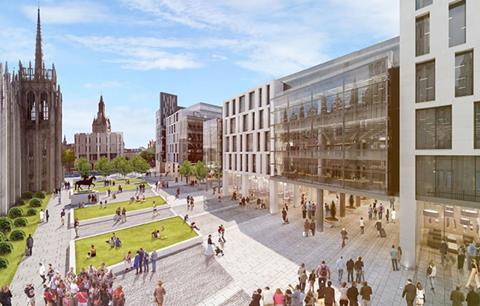 Muse Developments has unveiled plans for a £107m new square in the city of Aberdeen.
Muse, the regeneration division of Morgan Sindall, will create a new square named Marischal Square in the city centre, surrounded by offices, a hotel, retail, cafes and restaraunts.
The plans also involve giving greater prominence to the site's 469-year-old Provost Skene's House.
Demolition work on existing buildings is underway, with Muse set to begin its development work later this year and complete in 2017.
The scheme is fully funded by Aviva Investors.
Steve Turner, Muse's regional director for Scotland, said: "Marischal Square has the potential to make a long-term impact on the local economy and it is vital the city has the right mix of office and commercial space to capitalise on the opportunities that will arise as the city continues to enjoy a significant business boom."