An exhibtion area, classrooms and public viewing gallery are to be managed by the musuem in London's tallest tower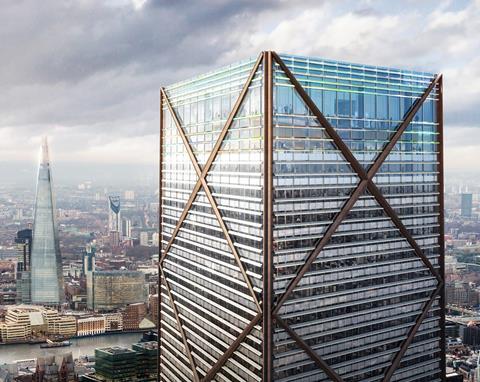 The Museum of London is in discussions over occupying London's tallest viewing gallery in the Eric Parry-designed skyscraper 1 Undershaft.
A public viewing gallery, exhibition area and two classrooms are to be located on 71st and 72nd floors of the 73-storey building and Singaporean developer, Aroland Holdings, is speaking to the Museum about managing the spaces and how the two floors could work to support the museum's charitable aims and ambition to reach every London schoolchild.
Sharon Ament, director of the Museum of London, said: "Our aim is to engage every London school child. One of the new and exciting ways we could achieve this is by giving young Londoners a genuinely unique perspective on the capital from the top of the City of London's tallest tower.
"There could be no better place toobserve how the fabric of London has changed over two millennia while thinking about what this means for the city of today and tomorrow. By working with Eric Parry architects and Aroland Holding there's a great opportunity to create a magical learning experience," she added.
1 Undershaft, subject to planning approval, would be London's tallest tower standing at 309.6 m in the Square Mile eclipsing Lipton Rogers PLP-designed 278m 22 Bishopsgate.
It will replace the 28-storey Aviva Tower – originally the Commercial Union building – which was completed in 1969 and designed by GMW Partnership, now owned by Scott Brownrigg. The first building in the City to be taller than St Paul's Cathedral.
The new tower is comprised of 90,000 sq m off office space and nearly 2,000 sq m of retail, while the reception lobby will be elevated allowing the public to walk underneath.
Eric Parry said: "1 Undershaft will be the City of London's tallest tower and the public are at the very heart of the building. I am delighted to be exploring how this unique space with unrivalled views across the Capital can be used as an exciting and inspiring educational setting to ensure every child in London can better understand our city".
A planning decision by the City of London is expected this summer.