In its annual report on the outlook for winter the National Grid warns that UK energy capacity is at its lowest level in seven years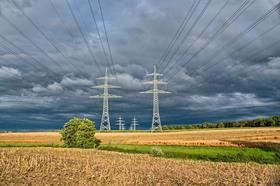 The National Grid has warned the UK may be have to adopt emergency measures to keep the lights on if the country is struck by bad weather this winter.
In its annual Winter Outlook report, published this morning, the National Grid said the UK's energy capacity margin - the gap between total electricity generating capacity and peak demand - was just 4.1%, the narrowest since 2006/7 and down from 5% at peak periods last year.
The drop in capacity is due to planned generator closures, breakdowns and delays to new plants.
The National Grid said the margin of spare capacity could tighten further to just 2.8% if the country was hit by bad weather.
In this scenario the grid would fall short of its "basic reserve requirement" of spare capacity needed to run the system, meaning it would have to adopt contingencies such as paying factories to shut down and supplying reserves from mothballed power stations.
In the foreword to the report, National Grid director Cordi O'Hara said the margins between supply and demand are "tighter than they have been for a number of years".
She added: "It's clear the country has the ability to meet its energy needs in a cold winter. But we cannot be complacent and will be monitoring the situation closely."
Energy minister Matthew Hancock insisted households would not face power cuts because of energy supply shortages.
He told the BBC's Radio 4 Today Programme: "There will be no power cuts to householders. Of course there may be bad weather, and we've taken measures to ensure that the distribution networks are stronger than they were last winter, but in terms of energy supply, and the power stations that we have operating around the country, we are taking action today to ensure there will be no power cuts to households."
Concerns about winter energy supplies heightened last week when a fire broke out at Didcot B, near Oxford, which cut the power station's output by half.
The Didcot B fire was the third at a fossil fuel-fired power station this year.
After a blaze in February, Eon decided not to bring back online its Ironbridge power station in Shropshire, while in July SSE shut two units at its Ferrybridge coal plant in West Yorkshire following a fire.
EDF Energy also took two of its nuclear plants out of service in August for inspections after a fault was found.