Birmingham development sees city shoot up retail rankings table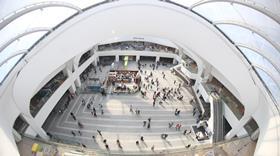 More people are satisfied with the revamped Birmingham New Street, a year after it was opened.
Mace led construction on the scheme which has seen close to 10% more people – 88% – say they are satisfied with their station experience, according to passenger group Transport Focus.
The station also includes an anchor John Lewis store which has helped the city leap to third from twelfth in the national retail rankings, with an FT report finding that the city's 40 million visitors now contribute £5bn to the economy. More than 6,000 retail jobs have been created thanks to the work.
The station has capacity to deal with 250,000 passengers a day with a train arriving or leaving every 37 seconds.
Estimates suggest that over 10,000 jobs were created during the design, planning and construction work associated with redevelopment which was designed by AZPML, formerly Foreign Office Architects.
Other firms to work on the scheme were structural engineers AKTII and Atkins and QS Faithful & Gould. Architect Haskoll carried out work on the John Lewis interior.
Mace said it helped to place more than 100 apprentices on the project through the supply chain.