Expectation of number of sales through government's flagship NewBuy mortgage guarantee scheme slashed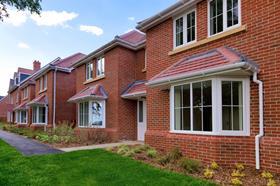 Housebuilders will only be able to deliver up to 25,000 homes for sale through the government's flagship NewBuy mortgage guarantee scheme, rather than the 100,000 homes ministers have previously claimed.
Launched by the prime minister in March, NewBuy was designed to help first-time buyers afford new-build homes.
David Cameron said it would kickstart housebuilding by enabling up to 100,000 extra homes to be built - a figure consistently repeated by ministers.
But it has now emerged the Home Builder's Federation, which runs the scheme, expects an upper limit of 25,000 homes to be sold.
Housebuilders have claimed demand for NewBuy mortgages has been limited by lenders' high interest rates of about 6%.
The news comes after the first official figures for the scheme showed for the period from 12 March to 30 June just 250 homes had been sold.
HBF chief executive Stewart Baseley said: "I think that over the life of the scheme, 20,000-25,000 sales are likely.
"The prime minister said that the government has committed £1bn to this so given what that could underwrite, it is - in theory - enough for 100,000 homes. But [20,000-25,000 homes] is what we believe our members can deliver given a steady situation in the economy."
However, housing minister Mark Prisk said the government would still be encouraging the industry to try to deliver the 100,000 sales ministers had promised.
He said: "Obviously the scheme is run by the HBF and they've estimated that they can deliver something in the region of 20-25,000. That doesn't mean that's the ceiling of their ambition.
"Putting the financial viability aside we've said it's up to 100,000 if the market can support that. It may be in the spring, if the market is improving, they [the HBF] may want to revisit it. I certainly will want to apply strong pressure whether it be to the lenders or the HBF and its members to get the best return."
Prisk said the government is exploring further measures to boost take-up of NewBuy gave no details. "We're having a number of discussions in the run-up to the autumn statement," he said.