Exclusive: Yorkshire-based M&E firm bounces back after making £4.2m loss in previous year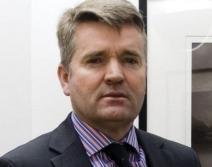 The UK's largest private M&E contractor NG Bailey has returned to profit and grown its revenue by 11%.
The Yorkshire-based firm posted revenue of £464m for the year ending 24 February 2012, up 11% on £419m the previous year, in results disclosed exclusively to Building.
The company returned a pre-tax profit of £7.2m after slumping to a £4.2m loss the year before.
The improved results came as NG Bailey revealed two major contract wins - pre-construction work on Costain's £800m revamp of London Bridge station and M&E work on a £150m "mega dairy" for Arla Foods in Aylesbury, Buckinghamshire.
The latter contract is worth £60m to NG Bailey and will involve the delivery of £30m worth of M&E work on the 70-acre dairy and the running of the facility for 15 years, worth £30m.
Chief executive David Hurcomb (pictured) attributed the company's financial turnaround to "expansion in the service and infrastructure sectors".
NG Bailey's services business - which include facilities management, IT consultancy and offsite manufacturing - now makes up 17% of the firm's turnover and 25% of its pre-tax profit.
Hurcomb said the firm's ambition was to grow the services business to a third of its turnover within five years.
While all NG Bailey's divisions turned a profit, Hurcomb admitted the building services arm - which still makes up the bulk of the firm's turnover - is only making a "marginal" profit.
He said: "NG Bailey today is making no money from the building services piece - its making money from the services division".
He said he did not expect margin improvement in building services "for a year or two".
But the success of its services business - particularly in winning longer-term facilities management work - helped the company clock up a record £0.75bn order book for the period.
The firm was caught up in one of the largest industrial relations disputes for over a decade earlier this year, after it and six other M&E contractors backed the proposed BESNA changes to workers' pay and conditions.
Hurcomb said contractors and unions were still in a "healing" period after all seven firms abandoned the BESNA plans in February, following five months of protests.
He said the firm still believed the M&E wage agreements needed "modernising" due to increased competition from European firms and developments in technology.
He confirmed NG Bailey is involved in the Industry Development Forum of contractors and trade federations that is working on new proposals.

NG Bailey results highlights
For the year ended 24 February 2012:
Revenue £464m - up 11%
Pre-tax profit £7.2m – up from £4.2m loss
Services business comprises 17% of turnover and 25% of its pre-tax profit