Vaccinating contractor's workforce could lead to 'improvement on site', trust says
The NHS trust responsible for the Liverpool hospital being completed by Laing O'Rourke has said there is a case for vaccinating staff working on the project.
This month O'Rourke confirmed that there had been 26 cases of covid-19 in just over a week at its Royal Liverpool Hospital site.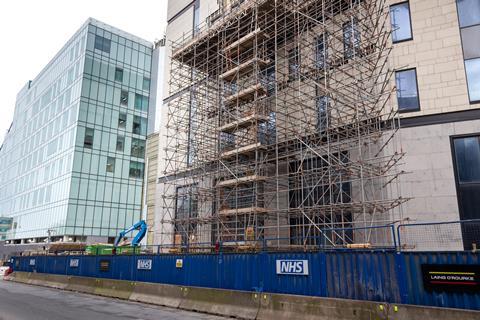 A spokesperson for the firm, which took over the job after Carillion's collapse three years ago, said at the time: "In recent weeks, we have seen an increase in positive test results among people working on the new Royal in line with the latest increases in the Liverpool region."
Now Liverpool University Hospitals NHS Foundation Trust has floated the idea of immunising O'Rourke's staff on the project, given the potential impact covid breakouts could have on productivity.
Papers prepared for its latest board meeting, held on Tuesday, said: "The [new hospital] committee noted that the covid-19 positive cases relating to the workforce on site have risen and there was a need to review the impact of the third covid-19 surge over the next couple of weeks.
"Further improvement on site may be achieved if there was agreement on the availability of the vaccination to contractor staff. The project director will review the vaccination position with the trust's vaccination lead."
O'Rourke has around 1,000 workers on the job, which remains open, and was originally meant to finish in 2017. It is now due to be completed next year.
The papers also provided an update on other challenges facing the project, which at the time of its implosion Carillion left with structural issues including cracked concrete beams, non-compliant cladding and inappropriate operating theatre ventilation.
The papers said: "The committee noted the completed structural interventions but risks remained around supply chain, covid-19 and Brexit.
"Further assurance about the quality of workmanship is to be provided to the committee from the latest Aecom report when circulated."
Aecom was named as clerk of works on the Royal Liverpool project in September 2019.