Nottinghamshire firm says it is another owed money by Carillion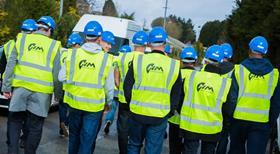 North Midland Construction has said the gloss will be taken off its 2017 results after admitting second half profit will be hit by an ongoing row over a residential scheme in Lincolnshire.
The Nottinghamshire-based firm said a review of work following its year end at the end of last month had meant the group would now only break even in the second half although the firm will return a pre-tax profit when it publishes its annual results at the end of March.
North Midland said it plans to appeal a decision by the High Court last autumn following its work for Cyden Homes to build a large residential house and outbuildings called South Farm.
The contract for the late-running job included liquidated damages of £5,000 per week in respect of delay with North Midland applying for an extension of time. But the judge disagreed and refused to grant North Midland the declaration it was after.
In a trading update, the firm said: "The Company has been granted leave to appeal this decision by the Court of Appeal. On the advice of the Company's lawyers the Directors will vigorously pursue this appeal, but have decided to make a further provision against the outstanding debt."
It added that it was owed money by Carillion for its work with Carillion Telent, the joint venture company carrying out upgrades to Britain's internet infrastructure for Openreach, the infrastructure arm of BT.
North Midland said the value of its work for Carillion Telent was around £3m a year and said it was owed money for current work, retentions and outstanding debt.
But it said Telent was taking over Carillion's 60% share of the JV "and that any money owed to North Midland Construction will remain the responsibility of Telent". It added there had been no disruption in payments due.
The firm, which is targeting net margins of between 1.5 and 2%, said its 2018 order book stood at £257m, which was 80% of the directors' expectations for the current year. It added that it had cash balance of £17m.
Chief executive John Homer said: "It is disappointing that focus on a healthy underlying Group performance from our continuing operations appears to continue to be diverted by the outcome of this remaining legacy contract."
Its full year results will be published on 28 March.