Focus on margin improvement is paying dividends, says chief exec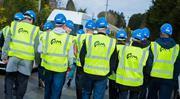 North Midland Construction, the Sutton-in-Ashfield-based contractor, has reported a doubling of first half pre-tax profits, boosted by strong performances in its highways, water and construction operations.
The group said turnover for the six months to the end of June rose 19% to £161m and pre-tax profit increased by 104% to £2.5m. It also more than doubled its cash position to £18.9m.
While the firm's telecoms business made a £1.6m loss, the deficit was compensated by the construction division's operating profit of £1.22m on near-doubled revenues of £22m.
Its highways arm posted an operating profit of £700,000, despite turnover dipping 35% to £14m.
And its water division posted an operating profit advanced to £2.6m, a near trebling of the previous year's £1m, on revenues of £112.1m, up by nearly a third.
John Homer, NMC's chief executive, said the results "demonstrate the continued progress made in the business against our strategic objectives.
"Our focus on margin enhancement and cash generation is beginning to show returns and is anticipated to continue going forward."
The group said last month's appeal against a High Court judgement regarding an outstanding legacy contract with Cyden Homes over a deal to build a large residential house and outbuildings called South Farm in Lincolnshire had failed.
Consequently "alternative strategies for making appropriate recovery under this contract which had already been designed in parallel are now being fully implemented".
North Midland said the financial impact of this move had already been recognised in its 2017 accounts. The group had set aside £7m to cover the legacy deals.