The change is likely to affect the park's final two neighbourhoods, Pudding Mill and Marshgate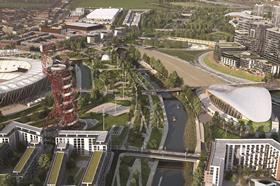 The London Legacy Development Corporation has admitted it is having to increase the amount of affordable housing it will build at the Olympic park following the election of Sadiq Khan in May.
The new London mayor has set a 50% affordable housing target for the capital - meaning he wants half of all new built homes to be "genuinely affordable".
The London Legacy Development Corporation (LLDC) was formed back in April 2012 and is responsible for the long-term planning, development, management and maintenance of the park (pictured), now called the Queen Elizabeth Olympic Park.
In an interview with Building, its chairman David Edmonds said Khan's election meant it was now having to rework its affordable housing plans for the site in east London - which currently has a 35% target.
"We are looking of course at the policies of the new mayor and we're looking at the plans for the sites we have yet to develop to ensure that we revise the plans so that those targets will also be met.
"On new sites we will certainly move to 50%. They're being revised. We're doing the work at the moment, working through what the implications are. We're in detailed discussions with the GLA."
The change is likely to affect the park's final two neighbourhoods, Pudding Mill and Marshgate.
Schemes that have already been procured, including Taylor Wimpey's 828-home Chobham Manor development, the first 165 of which are close to finishing, and a 1,500 home scheme at East Wick and Sweetwater, which is being developed by social housing firm Places for People and Balfour Beatty, would be unaffected.
Edmonds admitted the LLDC is looking at density levels for the site but the former chief executive of the LLDC's forerunner, the Olympic Park Legacy Company, Andy Altman, warned that the body will have to make sure that building more full-price homes to pay for more affordable homes will not see a slip in design standards.
"High density can be done well and it can be done poorly," he said. "It'll come down to paying a lot of attention to the design, and will take a lot of back and forth with developers."
But Edmonds said: "I genuinely don't think we are going to lose that vision. The whole ethos is we are very conscious of the need to build communities - we're not building housing estates. There is no pressure to produce something that gets more houses at the expense of a crap environment or crap community or crap social development - quite the opposite."
Once completed, Chobham Manor will have 28% affordable housing while East Wick and Sweetwater will have 31%. The number of homes due to be built at the park, which was promised to be 10,000 back in 2009, now stands at 6,800.