Government wants developments of ten homes or less to be exempt from incoming zero carbon regulations from 2016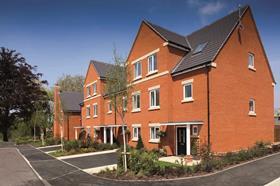 One in five homes will not have to meet the zero carbon homes standard when it is introduced in 2016, under government plans published today.
Under the zero carbon homes regulations houses will be required to emit significantly lower carbon emissions than they do today.
As part of the policy developers will be able to build offsite schemes, known as allowable solutions, to offset the carbon they cannot save economically onsite. This might entail paying a charge into a central pot or doing energy efficiency retrofits to existing buildings.
The government announced that it planned to let smaller sites off the regulatory hook in June but it did not say where it would set the threshold for what constituted a small site.
In a consultation published today it said its "preferred option" was to exempt developments of ten homes or less from having to pay for allowable solutions.
According to the government's own figures 21% of homes submitted for planning permission last year were on sites of ten homes or less.
It added that it would review the exemption after five years.
In the consultation it said: "Of course, not all small developments may choose to benefit from the exemption. The exemption does not stop smaller developments from building to the zero carbon standard, if they choose to do so.
"Costs of delivering zero carbon homes are expected to come down, and the impact of this would need to be analysed. The expectations on the reduced cost of delivering a zero carbon home may help bolster the case for a time limited exemption."
Paul King, chief executive of the UK Green Building Council, said it was "disappointing" that the government was "looking to exempt one in five new homes from this" standard.
He said it would "potentially condemn those households to higher energy costs for decades to come".
He added: "However, there have been deep divides on this policy within the coalition and some ministers have fought tooth and nail to retain the ambition of the zero carbon policy. Their efforts need to be commended."
But Brian Berry, chief executive of the Federation of Master Builders, whose members are mostly small firms, said he had always been "concerned about the disproportionate cost implications for smaller house builders" from the Zero Carbon standard.
He said: "It is absolutely right that adjustments are made to ensure small local builders can build as many new homes as possible at a time when we are building only half the number of new homes required to meet demand.
"Let's be clear – an exemption from Allowable Solutions will have no impact on the quality or energy efficiency standards of the new homes being built. These homes will still be built to the same energy performance standards as all other new homes but will avoid impeding the delivery of new homes by small and medium house builders."