Infrastructure Bill passes House of Commons with crucial zero carbon clause untouched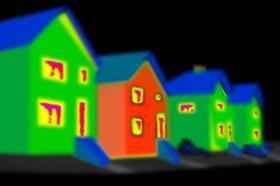 The government's plan to water down its commitment to zero carbon homes moved a step closer this week, after the coalition's Infrastructure Bill passed through the House of Commons without the proposal being amended.
MPs voted to change several aspects of the bill - including beefing up restrictions to fracking for shale gas - but left the clause to exempt new-build developments of ten homes or fewer from funding off-site "allowable solutions" unammended.
Allowable solutions provide developers with a mechanism to compensate for building homes that do not meet zero carbon standards with measures such as paying a charge into a central pot, or carrying out energy-efficiency retrofits to existing buildings.
The exemption of smaller sites – which account for around 21% of new homes – means that more than one-fifth of residential development could escape the zero-carbon criteria from 2016, when the target goes live.
UK Green Building Council (UKGBC) chief executive Paul King said the move left the government's zero-carbon policy off track.
"With a year to go until housebuilders are required to deliver zero carbon homes, we're not where we need to be," he said.
"The agreed standard has been significantly diluted and a question mark still hangs over how allowable solutions will be delivered."
The previously agreed minimum on-site standard, to be achieved before allowable solutions could be used, was defined by the Zero Carbon Hub Task Group in 2011.
UK-GBC said the standard broadly required a minimum CO2 reduction over 2006 Building Regulations standards of between 56% and 60% for houses, and 44% for flats, whereas the government's proposed standard now represented a 44% reduction across all housing types.
Earlier in the session, Labour MPs voted through an amendmet to the Infrastructure Bill that will introduce new tough regulations on fracking – even though one of the purposes of the legislation was to streamline access to onshore oil and gas reserves.
The measures include more rigorous risk assessments and controls on drilling emissions; a complete ban on fracking in National Parks; and prior notification on shale-gas extraction plans for residents who live above the sites.
Labour's shadow energy and climate-change secretary Caroline Flint said the result was that "tough protections and proper safeguards" would have to be in place before fracking could go ahead.
"While eight out of 10 homes still rely on gas for heating, shale gas may have a role to play in displacing some of the gas we currently import and improving our energy security," she said.
"But that potential benefit cannot come at the expense of robust environmental protections or our climate change commitments."