Construction output drops but all new work is up in third quarter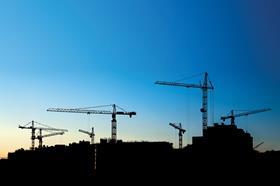 Construction output dropped again in the third quarter of this year, according to data from the ONS.
The ONS said output fell by 1.1% compared to the period between April and June, revised up from a preliminary estimate of a 1.4% fall.
Repair and maintenance (R&M) work fell the most, with public R&M down 7% and non-housing R&M down 3.9%.
Private commercial work fell 0.2% in the wake of the Brexit vote, with private industrial work down 1.2%.
But all new work was up 0.3% on the last quarter, buoyed by 1.2% growth in infrastructure 0.9% in public other new work.
While infrastructure grew compared to Q2, the sector was down 7.7% compared to the same period a year earlier.
Commenting on the infrastructure, Scape chief executive Mark Robinson said the "Brexit damage to big projects is very clear" from the data.
He added: "However things may now finally be looking up. The Prime Minister is clear about the timetable for Brexit, despite the legal hiccups this month, and the government has made lots of very positive noises about its pipeline for both big and small public infrastructure projects.
"The Autumn Statement later this month could mark a turning point for the UK as the Chancellor's plans for investment in infrastructure become clearer."
Private housing out was down 0.1% compared with the previous quarter, but rose by 10.8% compared to a year ago.
John Tutte, CEO of housebuilder Redrow, said: "This trend chimes with our own recent positive figures which revealed that last year we increased completions on homes by 17%, with our forward order book at record levels.
"Demand for homes is still incredibly high, a trend even Brexit has failed to dampen in our recent experience, and we have geared up our business for growth in response."