Construction industry new orders for second quarter revised down dramatically after statistical error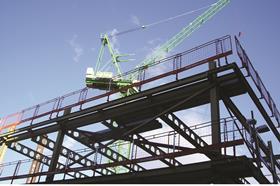 The level of new work in construction fell to its lowest level since 1980 in the second quarter of 2012, rather than staying flat as government figures had previously reported.
A statistical error, corrected by the Office for National Statistics (ONS) this week, meant that figures released earlier this month, which showed that new orders in the construction industry grew slightly in the second quarter of 2012, were revised dramatically down.
The correct figures showed that rather than growing by 0.2% between the first and second quarters of the year, new orders declined by 8.5%.
The corrected figures also showed that new work fell 0.3% year-on-year rather than growing 11.1% as was originally stated.
The correction also showed that commercial new orders were not 0.5% up year-on-year but 15% down.
The ONS said the revisions had no impact on the headline construction output figures or on overall GDP.
However, the correction mean the volume of new orders hit its lowest level since the third quarter of 1980.
Analyst Brian Green said the revision represented the loss of £1.2bn in new work, including £543m from the amount of work won in the private commercial sector in the second quarter.
"The data now suggest that contractors are currently winning work at a slower rate than at any time since the industry dipped into its depression," he said.
Simon Rawlinson, head of strategic Research at EC Harris, said the new, corrected figures, revealed "the accelerating weakness of the commercial sector", with the pipeline in commercial work now weaker than at any time in the past 20 years.
"[This] undermines the damage that continuing lack of confidence in the letting and project finance markets is having on this key sector of the industry," he said.
He added: "These are dark days for the industry, and the health of the forward pipeline is critical for planning, recruitment and funding. The continued delay in a return to stable trading conditions will maintain pressure on all levels of the supply chain."
He said the error by the ONS involved "simple arithmetic as well as more complex assessments of the value of orders".
"An error of this magnitude coming at a critical moment for the industry has to be investigated thoroughly, with appropriate quality control measures put in place," he said.
"After all, if we can't trust the quarterly orders figures, what are we to think of other monthly updates?"
The National Federation of Builders (NFB) renewed its call for the government to step up its efforts to revitalise the construction industry.
Julia Evans, chief executive of the NFB said: "It is time now for the government to take serious action to help SMEs in the construction industry to play their part in economic recovery."
The revised figures can be seen here.