Budget: Help to Buy scheme involves equity loans on new build houses and £130bn mortgage guarantee programme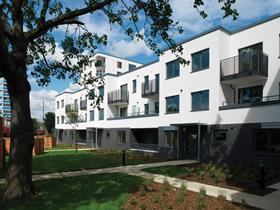 Chancellor George Osborne has announced a major new scheme designed to kickstart the housing market.
Osborne told MPs that the 'Help to Buy' scheme would be an offer to the "aspiration nation" to meet the natural desire of people to own their own homes.
He said Help to Buy comprised two major parts.
First, a £3.5bn capital spend over the next three years on shared equity loans to allow homebuyers an equity loan worth up to 20% of the value of a new build house.
And second, in what Osborne called a first for the UK, a new Mortgage Guarantee designed to allow lenders to provide more mortgages to all those without a large deposit.
This would use the government's balance sheet to back £130bn worth of higher loan-to-value mortgages.
The chancellor said: "The deposits demanded for a mortgage these days have put home ownership beyond the great majority who cannot turn to their parents for a contribution. That's not just a blow to the most human of aspirations – it's set back social mobility and it's been hard for the construction industry.
"This Budget proposes to put that right – and put it right in a dramatic way."
Referring to the equity loan component of Help to Buy, Osborne said previously help was only available to those who were first time buyers, and who had family incomes below £60,000.
He added: "Now help is available to all buyers of newly built homes on all incomes. Available to anyone looking to get on or move up the housing ladder.
"The only constraint will be that the home can't be worth more than £600,000 – but this covers well over 90 per cent of all homes.
"It's a great deal for homebuyers. It's a great support for home builders. And because it's a financial transaction, with the taxpayer making an investment and getting a return, it won't hit our deficit."
The Department for Communities and Local Government (DCLG) said the £3.5bn Help to Buy: Equity Loan scheme would help 74,000 homebuyers purchase a house with a 5% deposit by 2016.
DCLG said it would expand and replace the FirstBuy model, which is currently aimed at first-time buyers purchasing new build properties.
DCLG said that under the new scheme existing homeowners would also be eligible to receive a 20% equity loan that would help them buy a new build property, with prospective buyers receiving support to purchase properties from a participating housebuilder with a value of up to a £600,000.
DCLG said a separate option, called Help to Buy: Mortgage Guarantee, would enable lenders to use £12bn of government-backed guarantees to offer mortgages with smaller deposits, as little as 5%, on new and existing properties.
Where properties are bought under this option, the government would provide security for the loan, so if the house is then sold for less than the outstanding mortgage total the lender will be able to recover its loss, DCLG said.
Osborne also announced that the Build to Rent Fund would be increased to £1bn to support the construction of new homes specifically for private rent.
Osborne also announced that the government would double the funding for the Affordable Homes Guarantees Programme to £450m, with up to 30,000 affordable homes to be delivered through the expanded programme, with all new homes started on site by the end of March 2015.