Contractor turns in record figure but sounds Brexit alarm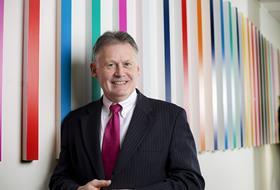 Osborne has admitted that Brexit will have an impact on its sites once the UK leaves the EU next March.
Announcing a record annual profit, the Surrey-based firm, which carries out work mainly in and around London and the South-east, said the contractor was worried about having enough labour on its jobs.
In a strategic report signed off by chief executive Andy Steele (pictured), the firm said: "Leaving the EU is likely to impact on the availability of skilled workers given the relatively large proportion of the labour force, particularly in the group's main geographical area of operations."
The firm, which is carrying out work to upgrade the Royal Academy of Music in London's Marylebone district, also said some jobs had been delayed into its current 2018/19 because of uncertainty caused by Brexit with group turnover down 8.5% in the year to 31 March to £318m.
It said the fall was also down to declining workloads in its largest sector, education, and a rail framework coming to an end.
But the 1,000-strong firm, which includes its building and civils business Geoffrey Osborne, saw pre-tax profit rocket from £3.4m in 2017 to £12.6m which it said was down to profit generated by its specialist development business. It added: "All our contracting businesses have continued to make a contribution as well."
It said that its total of secured orders at the end of May 2018 was up 19% to £547.8m.