Chancellor announces £500m finance package for small and custom housebuilders, as well as new garden city and extension of Help to Buy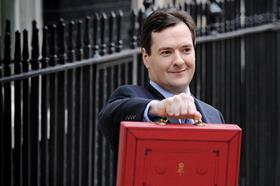 George Osborne has used his Budget to attempt to neutralise attacks from Labour over the government's record on promoting the role of small and custom housebuilders with the creation of a £500m finance package for small firms and a "right to build" for self-builders.
The chancellor's Budget also confirmed a widely-trailed extension from 2016 to 2020 of the Help to Buy equity loan scheme, backed by £6bn of government cash, as well as plans to back a new "garden city" development in the Ebbsfleet quarry in Kent, with £200m of investment.
Osborne said the measures would support the construction of over 200,000 new homes.
The pledge to help small housebuilders and self and custom builders comes after determined campaigning from Labour on the issue, with the party pledging a proportion of public sites to be devoted to smaller players.
The Budget documents said the new £500m Builders Finance Fund would be targeted at SMEs and would provide loans to developers to unlock 15,000 housing units.
In addition, Osborne said the government would consult on the creation of a new "right to build", which would see custom builders able to demand a plot from councils, supported by a £150m repayable fund, and designed to provide 10,000 plots in total.
The government will also look at making Help to Buy available to custom builders.
The Budget also confirmed the expansion of the Help to Buy incentive for new-build home construction, despite fears it will stoke a housing bubble.
The Treasury said the expansion would help a further 120,000 people buy a new home, in addition to the 74,000 expected to be helped by the current scheme to 2016.
To head off fears over runaway house price inflation in London and the South-east, Osborne said he had asked the newly-formed Financial Policy Committee "to be particularly vigilant against the emergence of potential risks in the housing market".
He said there would be a "prospectus" by Easter for councils to create their own "locally-led" proposals for new garden cities, following on from his confirmation of up to £200m to support the creation of a 15,000-home garden city in Ebbsfleet, backed by a new Urban Development Corporation for the area.
The coalition first promised to publish a prospectus on large-scale new developments in its housing strategy in 2011, but the document has been held up ever since in Whitehall wrangling.
Brian Berry, chief executive of the Federation of Master Builders, which represents SME builders, said the £500m fund was "much needed" as many major banks were still reluctant to lend to small residential developments.
"This additional support will provide the necessary finance to small house builders and help increase the overall supply of new housing through a well-functioning SME sector," he said.
Grainia Long, chief executive of the Chartered Institute of Housing (CIH), also welcomed the package of measure for smaller builders and the emphasis on garden cities.
"If we are going to build the number of homes that we need to solve the housing crisis, garden cities and other new developments are going to be a huge part of the mix," she said.

Other key Budget announcements
The creation of a £150m fund to kick start the regeneration of large social housing estates
Treasury to work with the Greater London Authority on extending the existing Gospel Oak to Barking line to Barking Riverside, in order to support the development of the 11,000-home scheme
Expansion of the punitive 15% Stamp Duty rate for homes purchased through a company structure by lowering the threshold from purchases above £2m to those above £500k
£7bn package of measures to cut the burden of green levies on manufacturing and other high-energy industries
£100m for Cambridge to support its transport and infrastructure proposals, designed to enable the construction of new homes in the area
New legislation to give new tax and borrowing powers to the Welsh Government to fund infrastructure