Government will invite bids from interested councils today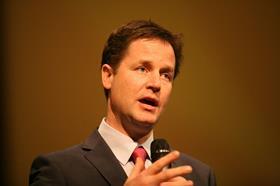 The government will pledge to build up to three new garden cities with at least 15,000 homes each.
Councils will be invited to bid to build the developments from an existing £2.4bn government fund, made available up to 2020.
Deputy prime minister Nick Clegg will unveil the policy later today and publish a prospectus inviting bids from councils.
Government officials told the PA the developments would not be imposed on communities and must have local support, full backing from councils, good transport links and be commercially viable.
The government plans to work with the two or three areas that submit the strongest expressions of interest to help them develop their proposals, including with planning and design.
At his monthly press conference, Clegg is expected to say: "A steady stream of governments have failed to deal with the problem. Politicians from all sides have given up trying. I'm talking about garden cities – a vision of communities where future generations will live, work, have children, grow up and grow old.
"The average first-time buyer is now over 30. Home ownership is falling for the first time in a generation.
"Once, owning a home was a dream that most people would achieve one day. Now that dream is becoming increasingly like a pipe dream for many young people.
"We have got to do more to tackle Britain's chronic lack of housing, and to build high-quality homes in thriving new communities."
He will say that "ad-hoc, urban sprawl" has become the default solution, but this has not solved the problem and has created local resentment at the same time.
"These plans will show that we can build beautifully designed new communities which preserve the gardens and accessible green spaces that residents most value.
"The first spades won't hit the ground tomorrow, but that doesn't stop us putting pen to paper to plan the places our children and grandchildren can afford to live in the years to come."