David Cameron confirms government will make further cuts to departments to fund £5bn boost to capital spending, with £1bn to be targeted at schools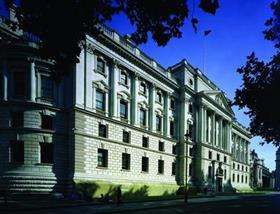 The Government is planning further cuts to Whitehall departments in order to fund capital spending, including transport and schools.
Number 10 has confirmed that George Osborne will announce in his Autumn Statement tomorrow that government departments, excluding health, education, and international development, will be asked to make save an additional 1% next year, and 2% in 2014-15.
The Treasury estimates this could raise around £5bn for capital spending, including spending £1bn on 100 new free schools and academies, with the government aiming to spend more money on "shovel ready" building projects in an effort to kick start economic growth.
Number 10 said: "The switch from current spending to capital spending at this Autumn Statement is a continuation of the government's strategy and follows a similar switch of £5bn at the last Autumn statement and an additonal £2bn a year of capital spending announced in the spending review.
Number 10 said the £5bn of capital investment funding would be allocated over the next two years.
Speaking to Sky news today, David Cameron said the government would clamp down on "unnecessary spending" to channel cash into infrastructure projects.
He said: "Government departments aren't actually spending up their budgets so I think we can say to them 'you know, you've got to cut back some spending, including some unnecessary spending' and let's put that back into things that will make a difference in our country and in our economy – more roads, more school buildings, more infrastructure to make our economy work better to make our country work better, that's what this is about
"If you look at departmental budgets, they're not actually spending up to the totals they've been allotted, so we can take some of that money and cut out any wasteful spending as well, always looking for further efficiency and spend that money on the schools, the roads, the hospitals, the Further Education Colleges, things that will help our society but also things that will make our economy more productive."
Labour's shadow chief secretary to the Treasury Rachel Reeves said the boost to capital spending showed the government had finally realised its cuts to infrastructure investment were a mistake.
She said: "The Chancellor seems to have finally admitted that abolishing the Building Schools for the Future programme and his other deep cuts to infrastructure investment were a catastrophic mistake which cost jobs and weakened our economy.
"But this extra funding for new free schools will be smaller than the huge cuts he made two years ago to school and college buildings. And George Osborne must explain which frontline services, like the police and social care, he will cut further to pay for this latest u-turn.
"In last year's Autumn Statement, ministers boasted that their infrastructure plan would boost the economy, but none of the road schemes they announced have even started construction. The Government needs to ensure that this funding urgently gets through on the ground."
The move comes as the first details of the government's revamped PFI programme emerged today.
As Building first revealed this morning, a hospital project in Birmingham is expected to be one of the first schemes set to benefit from the 'son of PFI', rebranded asPF2, along with defence projects and the government's priority schools programme.
For more details on the new PF2 programme, see here.