Chancellor announces move to pre-approve development on brownfield sites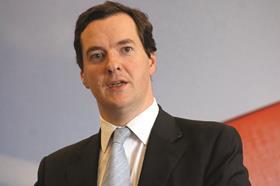 George Osborne has unveiled reforms to planning rules to free up development on brownfield land as part of a bid to enable planning permission for as many as 200,000 homes.
Speaking at the annual Lord Mayor's Banquet at Mansion House in London, the chancellor said the move would let developers build on almost all brownfield land.
The new reforms will force councils to put in place pre-approved planning permissions on brownfield sites that are suitable for housing.
He said local authorities would apply local development orders (LDOs) onto the sites with over 90% of suitable brownfield land to be covered by such orders by 2020.
Osborne said the government would also create a £5m fund to help local authorities create the first 100 sites with LDOs.
He added that the government would consult on a range of measures to enforce the approach, including allowing developers to apply directly to central government where councils have not done enough to remove planning obstacles on brownfield sites.
Osborne said: "Local authorities will apply local development orders onto sites and we expect over 90% of suitable brownfield land to be covered by 2020.
"This urban planning revolution will mean that in effect development on these sites will be pre-approved - local authorities will be able to specify the type of housing, not whether there is housing.
"And it will mean planning permission for up to 200,000 new homes - while at the same time protecting our green space.
"This approach will allow developers to get building sooner, saving them time and money."
Osborne also announced that he would give the Bank of England the power to cap the size of mortgage loans as a share of a borrower's income or the value of the house.
This comes after the latest data on new lending showed that while loan to value ratios remain well below their peak, loan to income ratios are at a new high.
He said the new powers would be legislated for and in place, following consultation, by the end of the current parliament.