Repair and maintenance drives growth, ONS figures say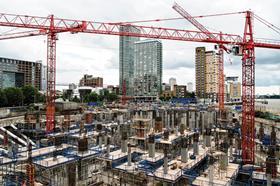 An increase in repair and maintenance work helped output in the second quarter bounce back, according to official government figures.
Output recovered from a 0.8% fall between January and March – with the wintry weather and Carillion's collapse being held responsible for the fall – to post a 0.9% rise between April and June.
The Office for National Statistics said a 2.7% rise in repair and maintenance to a high of £14.2bn was the main driver for the rebound – with new work remaining flat.
It said output increased 1.4% between May and June following on from the previous four week increase of 2.9%. It said output in June had increased thanks to continued growth in infrastructure work.
But publicly funded construction projects in the health and education sector only accounted for 5.3% of total construction work in June.
Blane Perrotton, managing director of surveyor Naismiths, said: "This rapid swing underlines the construction industry's perennial reputation for volatility. But it also confirms that the woeful first quarter – which saw output shrink by 0.8% – was a weather-related blip rather than the start of a sustained slowdown."
And Rebecca Larkin, senior economist at the Construction Products Association, warned: "New build activity was unchanged from Q1 and was 0.4% lower than 2017 Q4, as rises in public housing, infrastructure and industrial output were offset by falls in private housing and public sector work."
Last month the CPA said the collapse of Carillion and the freezing weather earlier this year will see output in 2018 shrink by 0.6%, a six year low.