Campaigners allege 'betrayal' as new money will only cover buildings higher than six storeys, with others forced to take out loans
The government is under fire after cladding campaigners described the announcement of £3.5bn of extra cash and the introduction of a developer tax as a "betrayal" of affected homeowners.
Housing secretary Robert Jenrick (pictured) told the House of Commons it will forward fund the cost of cladding repairs for building over 18m in height but that occupants of smaller buildings will be forced to take out loans at "generous" rates to cover costs.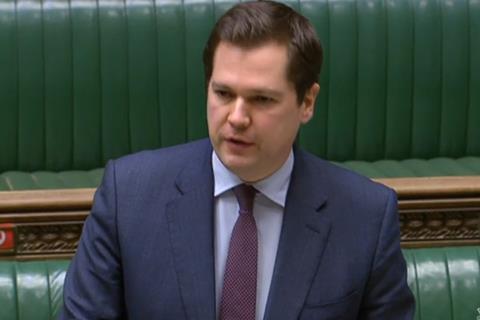 In addition, Jenrick's statement to the Commons implied that only the cost of cladding repairs will be covered by the grants, rather than the multitude of wider fire safety issues exposed since the Grenfell tragedy, which have been estimated to cost up to £15bn.
The announcement will also raise concerns for the industry, with Jenrick announcing two separate tax initiatives to raise money to pay for cladding remediation costs.
He said that from 2022 a residential development tax will be introduced designed to raise at least £2bn over 10 years, levied on the "largest residential developers" and will be based on "the money they make from residential development work".
In addition, Jenrick said the government will introduce a new tax, called a 'Gateway 2' levy, to be paid "when developers seek permission to develop certain high-rise buildings in England".
The housing ministry did not say how the taxes will work or the rules which determine which firms will be liable for them but said the government will consult on the design of both tax schemes in "due course".
Jenrick told the House of Commons the government will provide an extra £3.5bn in grants to pay for cladding repairs on high rises, on top of the £1.6bn already allocated, making a £5bn fund in total.
Those living in buildings lower than 18m in height – around six storeys – will be expected to take out a loan, secured against the property, with the guarantee that payments for individuals will never exceed £50 a month.
Announcing the measures, Jenrick said the government was making an "unprecedented intervention" after having appreciated the "frustration and sometimes despair" felt by occupants of affected buildings.
He added: "This is a comprehensive plan to remove unsafe cladding, support leaseholders, restore confidence to this part of the housing market and ensure this situation never arises again." Jenrick said the new levies will ensure "developers to contribute to righting the wrongs of the past".
Campaign group End Our Cladding Scandal said on Twitter that it felt "betrayed" by the announcement, while backbench Conservative MP Stephen McPartland branded it "shocking incompetence" and demanded the prime minister step in.
McPartland, who has campaigned on leasehold issues, tweeted that he was "listening to @RobertJenrick's announcement with my head in my hands. Wondering how he can have got this so wrong.
"It is a betrayal of millions of leaseholders. It is not good enough. It is shocking incompetence. It is clear the PM has to step in now."
The UK Cladding Action Group tweeted that the announcement was a "horrifying betrayal of millions of innocent people", which discriminated against buildings under 18m and offered "no funding for non-cladding building defects, no acknowledgment of huge costs of WW [waking watch - effectively round-the-clock fire marshalls] & Insurance that are bankrupting us before forced loans of £50 per mth."
Clare Miller, the group chief executive of the UK's largest housing association, Clarion Housing Group, said the announcement will not resolve the crisis. She said: "Whilst the additional funding for the tallest buildings is welcome, MHCLG is failing to provide any additional funding for buildings under 18m, while requiring that remedial fire safety works take place. This means that housing associations and leaseholders across the country are still being asked to pay the bill in most cases.
"Housing associations cannot bear the burden without a significant impact on our ability to build and maintain much needed affordable housing."
Earlier this week, Housing Today reported that the 15 largest London housing associations expect to spend £3bn over the next 10 years on fire safety repairs, seriously impacting on the volume of development work they can undertake.
The chief executive of the National Housing Federation, Kate Henderson, said she was very concerned about the impact of the lack of funding for social housing providers who needed to cover remediation costs. She said: "Not-for-profit social housing providers estimate they will have to spend in excess of £10bn to make all their buildings safe. This money is being diverted away from providing services and maintaining the homes of people in the lowest incomes in this country as well as building new affordable homes for those in need."
The Labour mayor of London, Sadiq Khan, said the proposals amounted to a "leaseholder lottery". He said: "These proposals fall far short of what is needed. It is shameful for ministers to tell some leaseholders that they will have to pay to fix building safety problems they played no part in causing."
And Labour shadow housing secretary Thangam Debbonaire said: "Three and a half years on from Grenfell, hundreds of thousands can't sleep at night because their homes are unsafe. The government has chosen to pile financial ruin on them. This is an injustice."