Regulator takes 64 unauthorised firms to task for displaying quality mark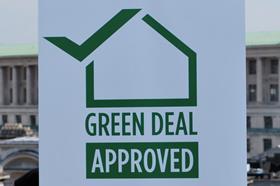 Over sixty firms have been disciplined for misusing the Green Deal quality mark over the last year, the Green Deal Oversight and Registration Body has said.
The annual report of the Green Deal Oversight and Registration Body (ORB) said that 64 firms had been sent letters to ask them to stop using the Green Deal quality mark or to modify the way they were using it.
It said 55 had removed or amended the quality mark from their publicity material and a further nine were still in discussions with the Green Deal ORB.
The ORB said it had not imposed any sanctions in the year from mid-June 2012, when it was established.
A total of 191 non-compliance issued were raised over the year and 119 have been resolved while 72 are still in the process of being resolved.
Writing in the report, energy minister Greg Barker praised the Green Deal ORB's work over the first "challenging but rewarding year for the Green Deal".
He added: "Over the last year we have turned theory into practice, and started the long journey to make our homes and businesses warmer and more energy efficient."
He said the ORB was "central to the long term success" of the Green Deal market.