Michael Byrne has been appointed chief executive of Byrne Group, following the death of Patsy Byrne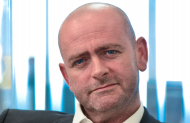 Michael, Patsy Byrne's eldest son, who has been involved in the business for almost 20 years, will take over as group chief executive of the concrete frame contractor with immediate effect.
Johnny Byrne will remain as chairman.
Former chief executive and co-founder of the business Patsy Byrne died unexpectedly last month.
Tony Dowle, Byrne Group's managing director, said: "Staff and colleagues are delighted that the Byrne name continues to be at the helm of the business but it is the combined strength, depth and expertise of those colleagues that will ensure that the business continues to grow and remain strong and robust."
"Michael has committed to work alongside everyone for the future success of the business and importantly to continuing with the culture and values that Patsy and the Byrne family have always maintained and that have set Byrne Group and its various trading companies apart for many years."