Managing principal of KPF died after a short illness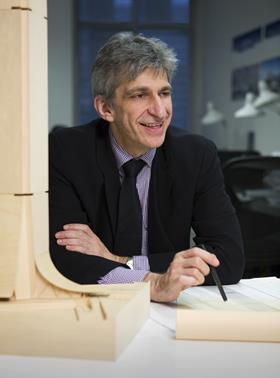 Paul Katz, KPF's managing principal and president, has died aged 57 after a short illness.
The South African-born architect, who joined KPF in 1984, died from septic shock on Thursday, less than a month after being diagnosed with cancer.
Tributes were led by the practice's chairman, Gene Kohn, who said colleagues were left reeling by the news.
Describing Katz as "our beloved partner", Kohn said: "He discovered this illness less than four weeks ago and kept the news within a handful of family members and colleagues as he hoped he would be cured. In a selfless way, he did not want to disturb others in the process.
"In his 57 years, Paul accomplished so much. With his high standards and penetrating intellect he contributed to the fundamental value of many of our projects, as well as crafting the structure of our global firm.
"Over the past decades, he trained and mentored many younger architects at KPF, many of whom have themselves become leaders in our field."
Katz became a principal at KPF in 1997, heading up some of the firm's biggest projects on three continents and leading 600 staff from six offices around the world.
He was an articulate advocate for tall buildings and was particularly interested in issues of urban density.
Perhaps his most significant scheme was the 5ha Roppongi Hills Project in Tokyo, on which he worked for 14 years. Completed in 2004, it was one of the largest mixed-use projects anywhere.
It led directly to the commission of what became the tallest building in China, the Shanghai World Financial Centre. Later Katz on to oversee the completion of the International Commerce Centre (ICC), Hong Kong's tallest building.
Katz also taught at the Harvard Graduate School of Design and Yale and co-authored a book on office design with Kohn.
Leanne Tritton of ING Media said: "Paul was seemingly invincible so his passing is a shock. I was always staggered by his capacity for work and his international schedule where time zones were meaningless. Whenever he called I would have to ask 'where are you?'.
"Paul was intensely loyal to KPF and particularly chairman Gene Kohn. He could be tough and single-minded but always hugely entertaining. I am so sad that he has gone."
Katz is survived by his wife Ziva Freiman Katz and children Jonathan and Hannah.
A memorial service is being held in New York today, with one planned for London at a date yet to be anounced.
In a statement his family asked that rather than flowers, donations be made to the KPF Foundation. All funds received will be applied to a scholarship or fellowship promoting study in architecture and urbanism, fields Paul loved dearly. More details will be posted on the KPF website.
* KPF has appointed Jamie von Klemperer, a Princeton classmate and close colleague for more than 30 years, to take on Katz's role as president.
Source
This story originally appeard on Building Design here.