Leeds Combined Court tells Building concrete specialist has filed notice of appointment of administrator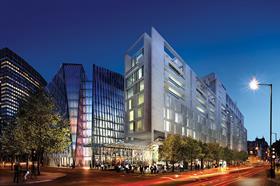 PC Harrington Contractors has filed a notice to Leeds Combined Court that it has appointed an administrator.
Leeds Combined Court told Building that PC Harrington Contractors Limited filed a notice that it had appointed an administrator at 10.41am this morning.
Separately, a spokesperson for KPMG later said: "Howard Smith and Jonny Marston of KPMG LLP were appointed Joint Administrators to P.C. Harrington Contractors Limited on 5 May 2015".
PC Harrington Contractors - the £65m-turnover concrete construction arm of PC Harrington Holdings - first filed a notice of intention to appoint an administrator on 13 April, but it is understood the firm had since been exploring its options for the business.
PC Harrington's head office hung up the phone when it was told about the enquiry.
The news comes after PC Harrington Contractors in March reported a £4.1m pre-tax loss in accounts covering the 12 months to the end of May 2014. Building has no information to suggest that any other of the group's companies have also appointed administrators, or intend to do so.
PC Harrington Contractors has worked on a number of the UK's most prominent projects over the last decade including the Gherkin, the Walkie Talkie and Wembley Stadium.
Recent projects that PC Harrington Contractors were working on include two major west London residential jobs - the £600m De Vere Gardens scheme and the £200m Fitzroy Place job - and phase one of Land Securities' £350m Nova Project (pictured) in Victoria, according to contracts database Barbour ABI. It has also been working on the £150m scheme to provide a new home for the Design Museum at the former Commonwealth Institute, the opening of which has been pushed back by over a year, with the Design Museum blaming the "complexity of the renovation" of the building.
In its last set of accounts filed at Companies House, PC Harrington Contractors posted a £4.1m pre-tax loss in the year to 31 May 2014.
The firm's board of directors described the loss as "extremely disappointing and well below the expectations of the directors."
The loss was ascribed to two factors, the directors said. The accounts said: "Firstly, with regards to two large contracts which were taken on as the economy was coming out of the recession and which were subject to severe delays resulting in cost overruns that could not be fully recovered.
"Secondly the company was unable to sufficiently recover increases in labour and fuel costs that arose after the tender was agreed.
"The directors anticipate the effects of these two factors will continue to be felt into 2014/15."
The firm previously made a £1.1m profit in 2013. Turnover in 2014 was £64.7m, up 6% from £61.1m in 2013.