Housing association brought in to work at £9bn redevelopment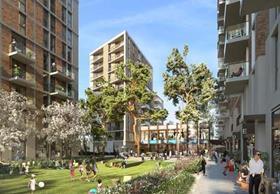 Housing association Peabody has been chosen to deliver the first affordable homes at the £9bn redevelopment of Battersea power station.
Work on the homes will begin later this year, completing in 2020.
Designed by Patel Taylor, the homes are being built three years earlier than planned after Battersea Power Station Development Company cut the number of affordable homes at the London site from 636 to 386 – just 9% of the 4,364 total new homes.
London mayor Sadiq Khan criticised Wandsworth council for allowing the developer to reduce the number of affordable homes.
The 386 homes, which will be a mix of shared ownership and affordable rent, will range from one to four bedrooms in size.
The development is also expected to include a new £13m NHS medical centre as well as workspaces for start up businesses.