Secretary of state decides not to call in giant regeneration project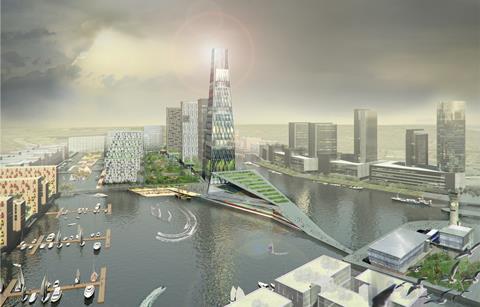 Wirral Waters
The government has decided not to call in the £4.5bn Wirral Waters planning application from Peel Holdings, giving final approval to the 17 million sq ft regeneration scheme.
Developer Peel says the scheme, which it claims is the largest regeneration project in the UK, will create 20,000 jobs over a 30-year period. It was approved by Wirral council in August, but has had to wait for secretary of state Eric Pickles to confirm whether or not it will receive further scrutiny from central government.
Peel hit out at the planning system, which has seen the scheme take four years to get approval.
Lindsey Ashworth, the firm's development director, said: "The ridiculous 'black hole' of a planning system that we have had to suffer in the UK for more years than I can remember is finally starting to show signs of common sense.
"The planning shackles that have been holding back progress and job creation are being loosened at long last. Wirral Waters being granted planning permission is a great win for everybody."
Peel said the scheme would be built out when the "recession allowed", which it estimated would be 2012 at the earliest.
Sustainability Now, the free-to-attend online conference and exhibition for sustainable professionals starts on Wednesday 8th December. Hear from industry leading speakers and interact with key associations and suppliers from across the built environment. Click here to register now!