Former environment secretary says £110m paid to Jeff Fairburn could have cut his customers' energy bills instead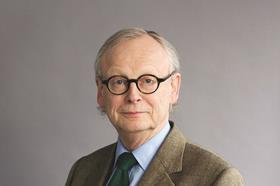 Persimmon Homes boss Jeff Fairburn could have slashed all of his purchasers' energy bills with the £110m that he has pocketed from the company's bonus scheme, former environment secretary Lord Deben has said.
The peer (pictured), speaking in his capacity as chair of the Committee on Climate Change at the launch of its response to the government's clean growth strategy, added his voice to those who have queued to criticise Persimmon over the size of the bonuses awarded under the housebuilder's controversial executive incentive scheme last month.
"If Persimmon had spent the £110m it is giving to its chief executive on the 18,000 houses it has built this last year, it could have saved very significantly on the energy bills of everybody who bought a house and contributed significantly to reducing our emissions," said Lord Deben, who as John Selwyn Gummer was a respected environment secretary in John Major's 1990s government.
Housing and homelessness charity Shelter said in the wake of the bonus announcement that it was big enough to have paid to rehouse every homeless family on the council housing waiting list in York where Persimmon is headquartered.
Lord Deben widened his criticism across the housebuilding industry, which he said had failed to improve its energy efficiency standards beyond those set by government.
"It has merely met what the government has insisted upon. The industry has to step up to the mark and not do the absolute minimum that the government insists on. The government needs to raise standards but we expect industry to be a proper partner."
And he said that making all new build homes meet the ultra-low emission Passivhaus standard would drive down the cost of eco-building by turning it into a mass market business
"If you build Passivhaus today you are building a niche product and therefore you are buying a lot of parts that are specially made. The moment you start to produce all houses that way, the price lowers quite significantly."
He said that the 'marginally more expensive' cost of constructing Passivhaus standard would be 'far outweighed' by the energy saved.
The CCC, which monitors the government's efforts to meet its statutory climate change target, says in its report that the clean growth strategy is ambitious but 'urgent action' is needed to flesh its proposals. Without these, it says the government it will fall short of its upcoming targets to curb greenhouse gas emissions.
On new build housing, it calls for new standards need to be developed that deliver high levels of fabric efficiency and future-proof properties for low-carbon heating.